INFO: BUYING TRAIN TICKETS THIS SPRING FESTIVAL
Here is our ticket buying guide for spring festival.
Original article by 长沙碧桂园威尼斯城
Translated / Edited by WNIC (Ben Wilkinson)
Once again, the hectic time of the spring festival celebrations is drawing near, here is a guide to help travelers buy their tickets ahead of time so that they can have an enjoyable spring festival.
In the past month China rail has announced that spring festival tickets will be on sale. Now, people can book train tickets through the Internet (up to 8 weeks and 3 days in advance).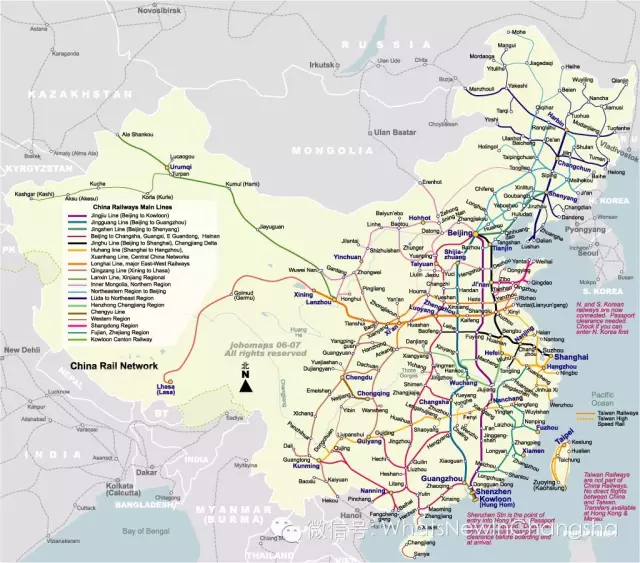 2016年春节时间:
2月8日(初一)~2月14日(休假)
The2016 Spring Festival period:
February 8th (Chinese New Year Day) - 14th (Spring Festival holiday)
2016年春运时间:
1月24日~3月3日
The 2016 Spring Festival increased transport period:
January 24th - March 3rd
2016年春运回乡高峰时间预计:
1月30日~2月7日(除夕节前一周)
The first 2016 Sprig Festival peak traveling period:
January 30th - February 7th (the week leading up to Chinese New Years eve)
2016年春运返程高峰时间预计:
2月12日~2月18日(初五开始的一周时间)
The second 2016 Spring Festival peak traveling period:
February 12th - February 18th (workers returning from their home towns to their cities of work)
2016年春运元宵返程高峰时间预计:
2月23日~2月25日
The 2016 Lantern Festival peak period:
February 23rd - February 25th
There are five different ways which you can book your train tickets, below is a list of the different methods with the positives and negatives of each method.
Telephone booking
Advantages:No queueing, quick and convenient
Disadvantages:Need to pay for the call, hard to connect during peak times

Guangzhou railway group (Changsha) ticket reservations: 0731-96020088/ 95105105, Customer service: 12306.
Able to book: an unlimited amount of tickets, seasonal train tickets, multiple-unittrains, high speed rail, regular trains and student tickets.
Internet booking
Advantages:Easy to check for tickets, quick to book
Disadvantages:Internet speeds can disrupt the transaction
If you want to buy tickets online, you should register on the China railway website: www.12306.cn. The process is easy and convenient, however if your internet speed is slow then your transaction may fail in which case you'll have to sign back in and try again.
App booking
Advantages:Book tickets any time, anywhere
Disadvantages:Don't book using dodgy applications

It's worth noting, there have already been many instances where people have reported fake 12306 (China rail) mobile apps. Then which one is the real one?
The real 12306 application's picture is white with blue at the bottom, the railway's emblem is red, and has 中国铁路(China railway) written on it.
Automatic ticket machine
Advantages: Easy to operate, the machine is able to take both cards and cash
Disadvantages:There's always a queue during peak periods

Both of Changsha's main railway stations currently both have automatic ticket machines, as it's operated by touch screen , it is very easy to use, after choosing the right train number and time, passengers just need to swipe their ID cards, then use cash or a card to finish your purchase. Unfortunately,automatic ticket machines don't currently accept passports, so as a result these machines are only able to be used by Chinese nationals. So you may have to wait in a very long, regular queue to simply get your ticket, so allow plenty of time.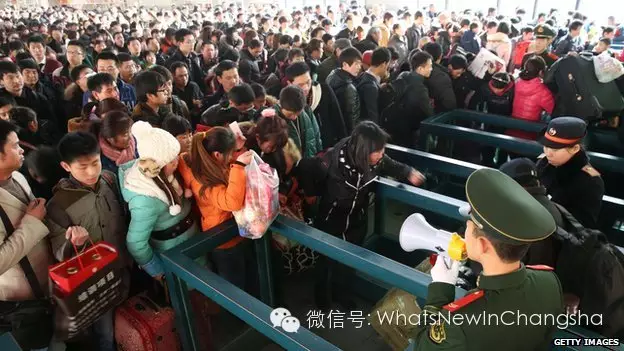 Booking at the trainstation
Advantages:Passengers are able to get the ticket they want, free from the worry of extra hassle or mistakes
Disadvantages:It takes a lot of time and energy
The traditional way of buying tickets during the Spring Festival, if you've got plenty of time or don't know how to use the other methods mentioned above, you can always buy your tickets directly from either of Changsha's main trainstations or from any of the ticket retail booths scattered around the city. Please note, there may be a special 'passport' counter. Best to ask a member of staff before joining a random queue.
Tips:
When booking tickets online, be sure to check that your I.D information and number have all been entered correctly.
Once you've booked your tickets online, you'll need to go to the station to collect your tickets before being able to board the train.
Once you've collected your tickets, you won't be able to alter or return your tickets through the website which you bought them from.
As long as there are available spaces, passengers are able to exchange their train ticket to that of another train ticket which was available within the same reservation period (for example, if you bought your ticket on January 1st, then you can exchange your current ticket for any other train which was available for booking on January 1st). Please note that tickets can only be exchanged 48hours or more in advance.
Passengers are able to exchange their train ticket for that of a different train which leaves before or after the current train ticket as long as it leaves on the same date as the current train ticket. Please note that this is within 48 hours prior to the original train ticket's departure time, however passengers are unable to exchange tickets to a date other than the one written on the ticket..
After the train has departed, passengers are still able to exchange their ticket at the station written on the ticket for that of another train which departs onthe same day. However the exchanged ticket is unable to be refunded.
Once a ticket has been exchanged, it is unable to be exchanged or altered again.
Normally, from 15 days up to 48 hours prior to the booked train's departure, exchanging the ticket for another 15 days or earlier, and then refunding the ticket 15days before the train's departure will still give passengers a refund of 95% of the ticket price. However, during the Spring Festival period, refunding any ticket at any time will only refund at the ticket return rate set for tickets returned within 24 hours of the train's departure.
There will be a new change to booking tickets during the spring festival period: Passengers will be able to buy insurance.
"Passenger insurance" costs 3元,and can cover up to 300,000元 for injuries incurred through accidents whilst on the train, as well as 30,000 元 for medical bills. Passengers are able to buy this insurance through the Chinarail website: www.12306.cn, this service is currently unavailable when booking tickets from a train station or through a phone application.
Passengers can "change destination"
In accordance with the new rules for exchanging tickets, 48 hours or more prior to the departure of the originally booked train, as long as passengers haven't already collected their ticket from a station or other ticket outlet, and as long as there are still spaces available, passengers are able to change their destination through the China rail website, passengers who have already collected their ticket must go to a ticket booth or train station to change their ticket.
Techniques for booking tickets
You are able to to use different web browsers on the same computer in order to simultaneously log into your China rail account and buy different tickets all at the same time.
The early bird catches the worm; the China rail website:www.12306.cn is operational 24 hours, however passengers are only allowed to book tickets from 7:00-23:00 each day. However, there are tickets available for purchase before 7:00 at the train stations. Therefore, passengers are able togo to a train station to buy tickets before they're available online.
If unable to buy their ideal ticket, passengers should check up on tickets around 45 minutes after they've been released for sale, there may be some passengers who weren't happy with their booking or didn't finish the payment transaction,this will result in the tickets being made available again, allowing people to freely buy them as they wish.
Passengers can use a program to help them book tickets for themselves. Right now 360,Cheetah (猎豹Liebao), and UC offer train booking services; users just need to provide the train andits number, the time they wish to take the train, the passenger's information etc. the program will then buy the tickets for the user, this is a great time saving method which will also save people lots of hassle. The only drawback is these programs can't give a one hundred percent guarantee that they'll manage to get the ticket.
Along with these basic techniques, we've also come up with down new ones!
The amount of tickets available at the train's original departure station are morethan at the stations which the train passes through.
When buying a ticket for a station which is not the original departure station ofthe train, you can still buy tickets which depart from the stations prior to yours on the train's route and still board at the station which you wish to board at. Although, you'll lose a bit of money.
Use a fast and stable internet connection
Make sure you find a good place with a stable connection and occupy that place until you've finished your transaction.
A good time to buy tickets is 45 minutes after they've been released for sale
Booking tickets online, the whole ticket purchasing process from ticket selection to payment all need to be completed within 45 minutes in order to successfully complete the transaction. So users can choose to wait for 45 minutes after thetickets have been released in order to get a ticket which was not successfully purchased the first time round.
15days before departure check the website
Usually, there will be a surge of people refunding tickets anywhere from 15 days up to a few days before the train's departure. If you didn't manage to buy a ticket the first time around then you may as well check China rail's website fifteen days before your desired train departs. There should be plenty of opportunity to find the ticket you want. Although, unless it's your only option, it's advised that you don't use this method, as there's no guarantee with this method.